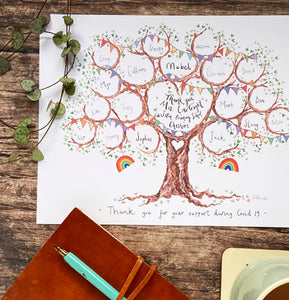 Hello!

Thank you for viewing this listing for a beautiful end of year teacher gift.

To complete your tree I need:
Teacher name and message for central heart.
Class and school name or a message for beneath the tree.
This tree comes with blank branches so the class can sign it themselves.

This tree is taken from my own illustration and is printed onto thick A4 card. It features pretty colourful rainbow bunting and the tree is decorated with tiny golden glittery dots.
This beautiful print has space for 30 names.  If you require more, please let me know.

Thank you for viewing! Happy shopping!