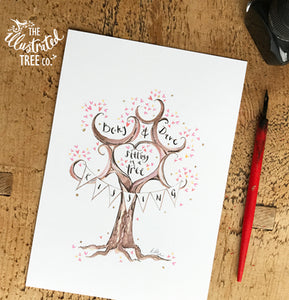 Welcome to The Illustrated Tree Company! Home of beautiful personalised prints and gifts inspired by nature.

This listing is for a gorgeous personalised print featuring that funny childhood rhyme '.... and .... sitting in a tree, K-I-S-S-I-N-G'
The tree features love heart leaves in shades of red and pink and bunting with the word 'KISSING' across it.

Names are hand written in ink and golden glittery dots are added by hand.

The print is available in A4 and A5 sizes. Your print will arrive wrapped in crisp tissue paper.